In this article we'll look at a few of the best-selling Montessori learning toys on the market today. These toys will provide children with a hands-on way to learn about their world and develop skills they need for the future.
Montessori learning toys are designed to stimulate children's natural curiosity and creativity. Montessori learning is based on the principles of Dr. Maria Montessori, a pediatrician who believed that every child has an innate ability to learn without any formal instruction. The Montessori method involves providing hands-on activities for kids so they can figure out how things work themselves rather than being told what to do by adults. This philosophy embraces the idea that children should be able to explore freely in order find their own solutions while also developing independence from their parents or caregivers. These types of toys allow them to develop problem solving skills as well as promote social development through cooperative play with other children around them at home or school! 
Our Wooden Vehicle Construction Tool Set by Boxiki Kids is just the toy you need to start Montessori learning. 
Barbara McArthur, a TOP 1000 REVIEWER VINE VOICE on Amazon left a 5.0 out of 5 stars review!
"Jacob approved!"
Reviewed in the United States on April 13, 2021
Color: Orange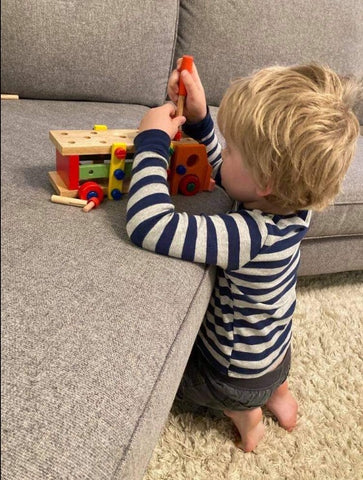 "This is a great building project, as it arrives with everything you need to build a truck. Jacob was totally absorbed, as his Mom is an accomplished DIY person, so Jacob has seen the tools and knows when it's all together, it will be something special. This is a great toy that will occupy hours of time, taking it apart and putting it back together!!"